Scanned, recopied or Internet copy, if there are errors, please e-mail me with corrections:
---
Opening comments: More at the end.


To the main Judicial Inquiry page - to the Hazel McCallion page.

Comments by others to this web-page - 6 - to this web-page at time of posting;
---
Globe and Mail - June 2, 2010 - By Ann Hui

Hazel McCallion testifies at judicial inquiry
Inquiry looks into council's approval of a controversial deal with
OMERS, and the mayor's alleged conflict of interest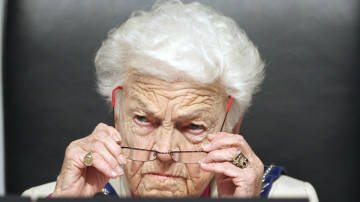 Mississauga Mayor Hazel McCallion.
Charla Jones/The Globe and Mail
For a mayor who has built her reputation on being tough as nails, it was an unusual display of passivity.
Testifying Wednesday at a judicial inquiry looking into her involvement in a number of controversial council decisions, 89-year-old Mississauga Mayor Hazel McCallion, better known to supporters as "Hurricane Hazel," repeatedly deferred responsibility for her oversights to city staff, talking down her role in the decisions, and saying that her powers as mayor are "very limited."
"Generally just procedural," said Ms. McCallion, who plans to run for a 12th term this October, of her duties. The mayor who's served as Mississauga's leader for over 32 years has cultivated for herself an image as the city's fearless leader. She first rose to international fame for her leadership during a 1979 trail derailment, and after walking back into work just two days after being struck by a pickup truck in 2003. Despite this, Mayor McCallion described her job Wednesday modestly: "Signing agreements, sitting on committees, preserving decorum," she said at the witness stand.
The inquiry dealt with a shareholder agreement made over a decade ago between the city and a subsidiary of OMERS, the pension plan for municipal employees, over energy company Enersource, formerly Hydro Mississauga.
At issue is a negative veto given to OMERS in that agreement over all future Enersource board decisions. Ms. McCallion and city councillors, who claim they only learned of the veto in 2007 during an attempt to lower board salaries, say they were not aware of this veto when they initially signed the agreement in 2000. Over the course of the two-hour testimony, Mayor McCallion said that the veto must have been added in without her knowledge prior to her signing.
"As mayor, I sign many – I think at the last council meeting, there were 35 bylaws in it, so if I had to read them all before I sign the bylaws, the agreements wouldn't proceed for quite a length of time," Mayor McCallion said. "We depend on staff," she continued.
"Were you personally involved in negotiating the agreement between the city and Enersource?" Ms. McCallion's lawyer Freya Kristjanson later asked.
"No," said Ms. McCallion.
Though Ms. McCallion denies it, then-city manager Dave O'Brien testified at the inquiry Tuesday that it was "very probable" he had informed Mayor McCallion of the negative veto prior to her signing.
Earlier this year, record-keeping in the mayor's office, particularly of e-mails, was called into question by the commission counsel William McDowell. Asked during the inquiry about her means of communication with staff, Mayor McCallion said that she did not own a cellphone in 2000, and didn't get one until she was told to by the fire chief for her own safety.
The judicial inquiry is expected later this month to probe allegations of conflict of interest after a council decision involving Mayor McCallion's son, Peter McCallion, and his real-estate business.
---
Comments by others - 6 - to this web-page at time of posting;
---

Priv4244

6/5/2010 7:53:20 AM
Mississauga has to be one of the Ugliest Cities in Canada, this is what happens when developers run the show.
[Recommend This Comment]
6
[Disapprove This Comment]
0
Report Abuse

Priv4244

6/5/2010 7:50:11 AM
It's time politicians were held accountable for their actions; all the additions to contracts that were not approved by city counselors should be null and void.
The city should also sue Hazel for any legal costs required to nullifying these deals.
It's also time to audit all her past deals (30 years worth) an RCMP probe is justified.
[Recommend This Comment]
6
[Disapprove This Comment]
0
Report Abuse

pokey46

6/3/2010 9:18:07 AM
"Mississauga is not yet the joke of the GTA but it will be soon. When those development fees trinkle to a halt people will be left in cul de sacs wondering why their mayor never invested into a transit system."


Darren
Do you think that Mississauga will take over as the joke of the GTA from Toronto?
[Recommend This Comment]
7
[Disapprove This Comment]
3
Report Abuse

hoot

6/3/2010 9:01:08 AM
I love you Hazel. Let the detractors talk, they are just jealous. This is a minor criminal oversight that you should be forgiven for. Our love for you should allow you to get off. You are the best mayor in the history of Canada. God bless Hazel.
[Recommend This Comment]
1
[Disapprove This Comment]
7
Report Abuse

JayDubya

6/2/2010 9:15:40 PM
Hazel -mybe it is time to pack it in.
[Recommend This Comment]
8
[Disapprove This Comment]
3

---
---
Home Page - Main Table of Contents - Back up a page - Back to Top
---
[COMMENTS BY DON B. - ]