Scanned, recopied or Internet copy, if there are errors, please e-mail me with corrections:
---
Opening comments: More at the end.

Odd - I spoke in favour of the Inquiry and it is not noted - why?

Pictures - of the Oct. 28, 2009, Council Meeting dealing with the Judicial Inquiry.

To the main Judicial Inquiry page - to the Hazel McCallion page.

Comments by others to this web-page 6.
---
Globe and Mail - Oct. 29, 2009 - By Joe Friesen

Mississauga to investigate 'murky' dealings

In packed council chamber,
Parrish succeeds in launching conflict-of-interest inquiry into
land deal involving 88-year-old mayor, Hazel McCallion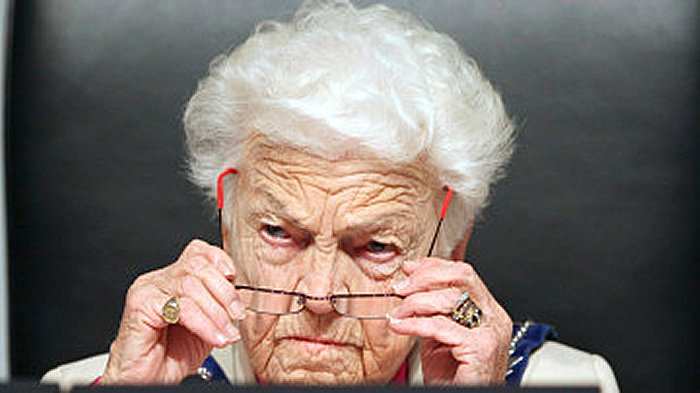 Despite plenty of support from her fans in the council chamber, the vote went against Mayor Hazel McCallion.
Charla Jones/The Globe and Mail


They came in their hundreds, filling every seat in the Mississauga council chamber, all expressing support for their still-swaggering mayor, the suddenly and improbably embattled Hazel McCallion.
Her council opponents, chiefly mayoral rival Carolyn Parrish, were derided as vainglorious opportunists, bent on destroying a sterling reputation by proceeding with a public inquiry into conflict-of-interest allegations over a land deal involving Ms. McCallion's son, Peter.
But the rebel group on council held firm despite the public opposition, voting 7-4 Wednesday to proceed with a sweeping inquiry that will probe years of land deals in Mississauga. They want to focus in particular on deals with OMERS, the pension fund for Ontario municipal employees.
One member of the public suggested that if this "witch hunt" continued, the 88-year-old mayor might suffer a stroke and die in office. Only one of the two dozen speakers to address council spoke in favour of the inquiry. Ms. Parrish and her supporters were unbowed, saying they were acting out of concern for good governance.
"This inquiry is not about Hazel McCallion," Ms. Parrish said, prompting groans of disbelief from the audience. "This inquiry is about murky things that have been going on around this city for a number of years."
Ms. McCallion did not speak to reporters Wednesday, but was in fighting form before the judicial inquiry came before council. She strode across the council chamber like a televangelist, a portable microphone in her hand, hectoring and encouraging city staff in equal parts and clearly adored by her audience.
The vote for a judicial inquiry was a defeat for her supporters on council and in the public chamber. Many argued that the inquiry could spin out of control in both cost and scope. They said the conflict-of-interest allegations had been dealt with in a report by an independent law firm, which found that Ms. McCallion's principal indiscretion was failing to declare a conflict in a 2008 meeting. She had declared a conflict on this matter several times before, but failed to do so for a brief non-substantive discussion that day.
Bizarrely, the minutes of that meeting said the mayor declared a conflict, although video shows she clearly did not.
"Somebody in this building changed those minutes and we've never had an explanation," Ms. Parrish said. "All I understand is something's not right here, and every time we run into a brick wall, it's … OMERS that we hit. …We're not here to hurt the mayor. We're here to get answers."
Councillor Nando Iannicca, who voted in favour of the inquiry, said the decision was "heart wrenching," but he was not elected to council for his love of the mayor, he said.
"Some things have gone on that I can't explain to my constituents," he said. "This was one of the easiest decisions I've ever had to make but I've never regretted a decision more."
A judge of the Superior Court of Ontario will eventually be appointed to oversee the inquiry, expected to cost more than $2-million. Its terms of reference as passed yesterday will be quite broad. The proceedings will delve into the city's relationship with various companies and real-estate developers, including OMERS, World Class Developments and Enersource, as well as their relationships between any elected official, past or present, and whether there were any undeclared conflicts of interest.
It will also delve into private meetings held in a Toronto hotel between Ms. McCallion and a company that employed her son related to a proposed Mississauga land deal. It was that deal, which never went through, that first prompted the calls for an inquiry.
---
Comments by others, 6, to this web-page;
---
Cape Bretoner - 10/28/2009 11:39:01 PM

Carolyn Parrish is a self-serving opportunist. I had her as a high-school teacher many years ago. When I ran into her at a business function many years later and introduced myself, she completely blew me off, embarrassed in front of her "entourage" that she would have a student as old as I was. Long live Hazel!

[Recommend This Comment] - 8 [Disapprove This Comment] - 4
---
Thorgasm - 10/29/2009 6:13:39 AM

don't you even want to know if you've been cheated? that's cheating yourself. Is this one of those deals like when elderly people don't want to report being defrauded because it means they are incompetent?

[Recommend This Comment] - 10 [Disapprove This Comment] - 2
---
Enoch Powell - 10/29/2009 7:16:17 AM

Carolyn Parrish is going into this hoping she'll find something so she can severely damage Hazel. Its the only chance Carolyn has of getting elected as mayor. The people in Mississauga seem to love Hazel and this little coup d'etat will wind up biting the 7 people who voted in favour of it right in the keester.

[Recommend This Comment] - 7 [Disapprove This Comment] - 5
---
Did you know Canada?!? - 10/29/2009 10:50:21 AM

People from this comment board should pitch in and help with Michael Iggnnatieff medication.
He seems to be obsessed with Liberals and paranoid with other fellow humans!
If we try, we can help him step out of his basement.

[Recommend This Comment] - 3 [Disapprove This Comment] - 2
---
OhPlease - 10/29/2009 1:20:27 PM

I saw the meeting and the room was not even half full. That is really the sad part here. There should have been more of the "We Love Her No Matter What" crowd.
Hazel put Hazel in this situation and she is not above the law. She is as accountable as anyone else. Read the documents (as the judge will) and tell me there is nothing bad here. Forget the Parrish obsession that is a smoke screen for the real issues. Look at the all of the dealings and communication between OMERS/Hazel/Peter McCallion/City and the lawyers for some of the above as well as Peter's other partners. Believe it or not this stuff is all publicly available and shocking in detail. The good news comes thanks to this council --now a judge will read the documents and offer an opinion.
I know, I know she is above the law how dare you even think to hold her accountable.

[Recommend This Comment] - 5 [Disapprove This Comment] - 3
---
Blue-man - 10/31/2009 12:26:37 AM

Hazel McCallion, has probably done more for Mississauga in her 30+ years as mayor than any other mayor in North America has done for his/her municipality. And she did so for 20+/- as a councillor. To show our thanks, she may be facing the "guillotine" for what amounts to a parking ticket.
There is no hotel deal. Neither Hazel nor her son are in danger of scoring any big bucks.
Hazel declared her conflict of interest repeatedly, if not at every meeting, probably because everyone at the offending meetings had heard her recital before. Or, she simply forgot.
What councillor has ever owned his/her position like Hazel owns being mayor? Her commitment has been so far over the top as to put all 11 councillors to shame over their ineffectiveness. She at least was trying to further advance the City's well-being. What have they been doing?
Without Carolyn Parrish's "leadership", Council could have quietly authorized the chief bureaucrat to engage a forensic auditor & lawyer combination to check the history of the matters of concern. No public inquiry necessary for that.
So really, this is not about a Witch Hunt": and it's not about digging into "murky" things as Carolyn Parrish insists.
It's about Carolyn Parrish! Purely & simply, she wants to be mayor.
I think that in the next election, there will be 7 new councillors elected and Hazel will get another huge majority.
Hazel may not still do her Saturday morning shopping while wearing an old hockey jacket as she once did in Port Credit & Streetsville, but she's on local cable almost every week taking calls about potholes and bus stops. You can find her several nights a week quietly representing the City at fund-raisers throughout the municipality.
She's past driving "MAYOR 1" (her license plate) herself as she used to do, but she still shows up.
Carolyn Parrish wouldn't do that stuff & you can take that prediction to the bank. She's the smarmiest of the smarmy and she proved it as a Liberal in the HOC in Ottawa.

[Recommend This Comment] - 4 [Disapprove This Comment] - 1
---
---
Home Page - Main Table of Contents - Back up a page - Back to Top
---
[COMMENTS BY DON B. - ]