Scanned, recopied or Internet copy, if there are errors, please e-mail me with corrections:
---
Opening comments: More at the end.

Oh WOW, the media notes I spoke and didn't label me as a monster!

Pictures - of the Oct. 28, 2009, Council Meeting dealing with the Judicial Inquiry.

To the main Judicial Inquiry page - to the Hazel McCallion page.

Comments by others to this web-page 3.
---
Mississauga News - Oct. 28, 2009 - By Joseph Chin, jchin@mississauga.net

Road cleared for City probe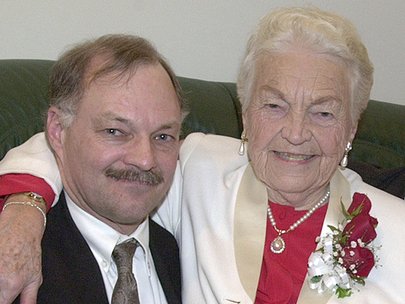 Family matter. City Council has decided today to go ahead with a
judicial inquiry that will investigate Mayor Hazel McCallion. Torstar photo
City Council has decided to forge ahead with a judicial inquiry that will investigate, among a wide range of issues, Mayor Hazel McCallion's private meetings with her son's company while the deal was still being considered by councillors.

By a 7 to 4 vote today, councillors approved the terms of reference prepared by City solicitor Mary Ellen Bench, opening the door for the inquiry, which is estimated to cost upwards of $2.5 million and last about 40 days.

Pro-inquiry councillors weren't swayed by the more than 150 supporters of Mayor Hazel McCallion who packed council chambers in a last-ditch effort to scuttle the probe.

The first speaker, Betty Merkley, set the tone by declaring the inquiry represents, "a low point in (the city's) history."

"Rather than pursue a judicial inquiry, I would redirect my energies towards the job taxpayers are paying me to do," said Merkley, a long-time city resident, to loud cheers.

The judicial review was sparked by McCallion's alleged failure to declare a conflict of interest when a land deal arranged by her son came before council May 21. World Class Developments, a firm represented by the mayor's son, Peter McCallion, tried to buy about eight acres of land from OMERS (Ontario Municipal Employees Retirement System), one of Canada's biggest pension funds, as part of an ambitious plan to build a hotel and convention centre complex across from the Living Arts Centre.

Residents rushed to McCallion's defence, pointing to her three decades of service to the city as reason enough to ditch the inquiry.

"The main reason for the success and prosperity of the City of Mississauga is the direct result of the hard work and dedication of (McCallion)," said Nabil Nassar.

Donald Barber, a community activist who campaigned against McCallion for the mayor's job, was the only resident in the audience to speak in support of the inquiry.

"The mere appearance of a conflict of interest is enough to justify legal action," Barber pointed out.

Several residents said they believed Ward 6 Councillor Carolyn Parrish had a personal vendetta – politically driven – against McCallion.

Parrish, however, emphatically denied the allegations.

"This inquiry is not about Hazel McCallion, this inquiry is about things – murky things – that have been going on around our city for quite some time," she said.

An example, she pointed out, was the Enersource agreement between Borealis, an OMERS subsidiary, and the City of Mississauga that was signed in 2000.

"(The agreement) was altered to give 100 per cent veto power to a 10 per cent partner," Parrish said, adding it has cost the City more than $1-million to clarify the imbalance in power.

Parrish said she's willing to change the inquiry's terms of reference to exclude the alleged conflict of interest by McCallion, but she won't compromise on OMERS.

"I want (OMERS principals) looked at because they affect our city," she said.

Parrish was also adamant the inquiry investigate how the minutes of a May 21 council meeting were changed to indicate McCallion had declared a conflict of interest when video showed she didn't.

"Mayor McCallion's conflict of interest is a small technicality: That is absolutely irrelevant to me. What is relevant is that six days after the minutes (of the meeting) was taken care of, somebody in this building changed those minutes, and we've never had an explanation."

Ward 2 Councillor Pat Mullin said the City should hire an integrity commissioner instead of proceeding with the probe.

"The scope of this (inquiry) is incredibly broad," she said. "We have no idea what the outcomes would be if it goes down the road in terms of the amount of money we're going to pay as taxpayers."

But Ward 7 Councillor Nando Iannicca, who moved the original motion for the inquiry, wasn't dissuaded from proceeding.

"I was not elected for love of the mayor; I was elected to do the right thing. It is one of the easiest decisions I have made," Iannicca said.

With the terms of reference laid out, the Chief Judge of the Superior Court of Justice will now appoint a judge. In the last 10 years, there have been only two such probes in Ontario, the first being the City of Toronto computer leasing inquiry which commenced in 2002, and the second the 2003 Waterloo RIM Park inquiry.

The hearing will likely be held in the Provincial Offences Court at 950 Burnhamthorpe Rd.
---
Comments by others, 3, to this web-page;
---
The Crusher Oct 29, 2009 11:54 PM

Are you serious
J-Mason, thankful people like you are in the minority!!! The judicial inquiry is the right thing to do on two fronts. If Mayor McCallion is inocent, as I am sure she is, then it would be better that she is cleared by an independent body as opposed to her peers. Because, you see, if Council cleared her then it would look like it was all about 'Politics'. On the other hand if there is some wrong doing then at least an independent body will sort it out and come up with some recomendations. At the end of the day the judicial inquiry was the only way to go.
* Agree 1
---
j_mason Oct 29, 2009 9:42 PM

Time for a Vote
It is time for a vote. It is time to hear from the people. As everyone keeps saying, let's do the right thing. Time to vote.

* Disagree 1
---
j_mason Oct 28, 2009 9:39 PM

All in the name of Politics
It is unfortunately when you see a great city like Mississauga bend to the special interests of so few. Is this politically motivated - of course this is. Mississauga has had low turn outs for voters as they had confidence in the Mayor. She is tireless. Working day in and day out for the City and its people. Every organization, every company in Mississauga has felt the goodwill and support of the Mayor. Every hospital has benefitted greatly from her actions. The people of Mississauga see through the CParrish aka the author of this attack. Now the voters will show how they feel.
|
* Disagree 3
---
---
Home Page - Main Table of Contents - Back up a page - Back to Top
---
[COMMENTS BY DON B. - ]