Scanned, recopied or Internet copy, if there are errors, please e-mail me with corrections:
---
Opening comments: More at the end.

Here is the insane part, not that Hazel or the Mayor of Mississauga makes so much but how many years it would take her to pay the legal bills, going by what she has asked for her time before the Inquiry - some $ 400,000! How is that reasonable that lawyers can change so much and not be criminal? How can any of us afford to buy justice at these rates?


To the main Judicial Inquiry page - to the Hazel McCallion page.

Comments by others to this web-page - 0 - to this web-page at time of posting.
---
Toronto Star - Aug. 10, 2010 - By Robyn Doolittle Urban Affairs Reporter.

A bargain basement mayor?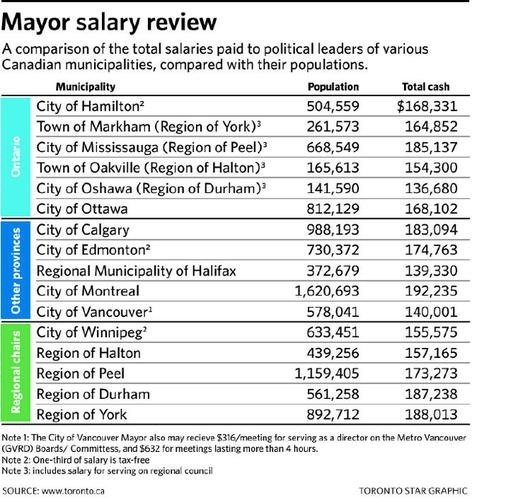 As director and CEO of the Art Gallery of Ontario, Matthew Teitelbaum earned $981,012.97 last year.
As president of George Brown College, Anne Sado was paid $351,152.71.
Meanwhile, as mayor of Toronto — who represents the country's largest single voting base, North America's fifth largest city, and the provincial capital — David Miller pulled in what is, by comparison, a measly $167,800.
The guy in charge of Toronto Water — a division of city hall — rakes in $222,576.79. Chief Bill Blair earns a salary of $309,491.19.
That's not to mention the fact that Mississauga's Hazel McCallion earns $185,137, including her pay as a member of Peel Region council. Or that the mayor of Montreal makes $192,235 annually.
For further perspective, on a per-person basis, Torontonians pay their mayor 6 cents each per year. Winnipeggers give theirs a quarter. Oshawa residents are big spenders with 96 cents.
In 2006, city council recommended that an outside consultant be asked to look at the salary of councillors and the mayor before the next term. On Monday, a report by the Hay Group, which recommended a $16,000 pay hike for Toronto's mayor, was made public. It will be debated at the Aug. 16 executive committee meeting.
The leading mayoral candidates quickly dismissed the study, criticized the fact it was done in the first place and declared they had no interest in a raise.
But given the comparisons, why?
"Experience shows them that there's always a backlash," said Neil Thomlinson, chair of Ryerson University's politics and public administration department.
"This is one of the things that's just depressing. We've reached a stage in society when ordinary citizens just don't accept the notion that democratic process has a price and if you want good people to run that process you have to be at least in some way competitive," he said. "You can't expect ordinary people to take humongous cuts in pay to go and do these jobs."
The wage issue leads to two types of candidates running for office: those who are independently wealthy, such as a Rob Ford or Mel Lastman, or individuals who couldn't earn as much somewhere else, he said.
"So I ask citizens: Is that what you want?"
---
Comments by others - 0 - to this web-page at time of posting;
---
---
---
Home Page - Main Table of Contents - Back up a page - Back to Top
---
[COMMENTS BY DON B. - ]