Scanned, recopied or Internet copy, if there are errors, please e-mail me with corrections:
---
Opening comments: More at the end.

Yes that is right - just before Halloween Mississauga City Council voted to have Mayor Hazel McCallion PRODDED!
Wonder if Aliens will be used?

Pictures - of the Oct. 28, 2009, Council Meeting dealing with the Judicial Inquiry.

To the main Judicial Inquiry page - to the Hazel McCallion page.
---
Toronto Star - Oct. 29, 2009 - By Phinjo Gombu, Urban Affairs Reporter


Mississauga council votes for
probe of Mayor McCallion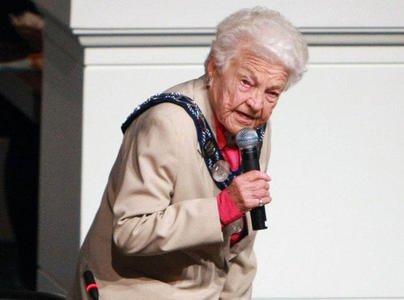 Mississauga Mayor Hazel McCallion speaks during an awards ceremony at Mississauga council meeting. (Oct. 28, 2009)
ANDREW WALLACE / TORONTO STAR

Mayor Hazel McCallion's supporters turned out in droves, pleading, imploring, berating and even threatening Mississauga council.
It didn't work.
Councillors voted 7-4 to push ahead with a $2.5 million judicial inquiry into the mayor's presence in private meetings about her son's downtown land deal and broadly related issues.
The vote occurred after hours of dramatic political theatre that had one of Mississauga's major developer-builders, Harold Shipp, fighting back tears over the mayor's plight.
It will also investigate how OMERS managed to quietly obtain controversial veto powers in its agreement with the city for a 10 per cent stake in Mississauga's its hydro utility, Enersource. The veto, discovered long after the fact, has been a source of contention within council.
Critics claim lawyers added the veto to the documents after council voted to accept the agreement, without council's knowledge - or that of the mayor, according to McCallion herself.
The probe will also look into how and why the minutes of a council meeting last year stated that the mayor had declared a conflict of interest in matters involving her son's hotel project, while video footage showed she had not.
But first came Wednesday's drama. More than a hundred of the mayor's supporters packed council chambers to accuse councillors of conducting a witch hunt.. some saying an independent legal report commissioned by council had cleared her allegations of conflict of interest.
Some, like close McCallion friend Jim Murray, questioned the $2 million-plus cost of the inquiry and expressed fears that it could turn ugly and spiral out of control.
"If you think the residents of this city can't see through this politically motivated search for the truth, you not only insult our intelligence, but you are also badly mistaken," said resident Betty Merkely, to cheers. "Do not use this search-for-the-truth crusade to besmirch the mayor's impeccable reputation."
Others, to more cheers, alternately called her the greatest mayor on Earth and compared her to basketball player Michael Jordan, saying she should be put in the mayors's Hall of Fame, if one is ever created.
And Shipp, who didn't name but accused Councillor Carolyn Parrish of leading a gang of councillors against the mayor, said he loved Mississauga and would be damned if council did anything that would make it less than what it is now.
But the majority - councillors Nando Iannicca, Carolyn Parrish, Sue McFadden, Frank Dale, Eve Adams, Carmen Corbasson and George Carlson - held firm, insisting the inquiry wasn't about the wildly popular mayor alone, but the need to untangle the truth and clarify some complex relationships.
"I do have a problem that official government documents got changed with no satisfactory explanation," said Corbasson, adding she also has "difficulty" with a council member attending off-site meetings on a city-related issue that would financially benefit a relative.
Defending the inquiry, Parrish said that, besides the propriety of those meetings, there are questions about the city's relationship with OMERS. In addition to Besides the veto, there is also the cash settlement World Class got from OMERS following the collapse of the deal - and the city's purchase of the same plot of land for a new Sheridan College campus.
Peter McCallion and partner Tony DeCicco won the settlement after taking OMERS to court. It was DeCicco's affidavit in that filing that revealed the mayor's presence at two private meetings, one of them last December in a last-ditch attempt to rescue the deal.
McCallion's son and DeCicco, Parrish said, were looking for money when they were contesting OMERS' decision to back away from the conditional agreement.
"In my world, that is blackmail," Parrish said about what preceded the settlement. "I want those guys looked at."
The December meeting came five days after council voted to buy out OMERS' interest in Enersource. McCallion was opposed to the buyout, as was OMERS.
Councillor Nando Iannicca, known for his colourful language, said he wasn't elected to council because of his love for the mayor.
"I was elected to do the right thing," he said, adding that to vote for the inquiry "is one of the easiest decisions I have made."
OMERS' spokesperson John Pierce was puzzled why the Enersource issue had been added to the inquiry. "Our main concern is our reputation," said Pierce. "Any inappropriate impact on our reputation is something we would be seeking compensation on."
---
Home Page - Main Table of Contents - Back up a page - Back to Top
---
[COMMENTS BY DON B. - ]