Scanned, recopied or Internet copy, if there are errors, please e-mail me with corrections:
---
Opening comments: More at the end.


To the main Judicial Inquiry page - to the Hazel McCallion page.

Comments by others to this web-page 5.
---
Toronto Sun - June 9, 2010 - By Don Peat

McCallion funding 'leap' rejected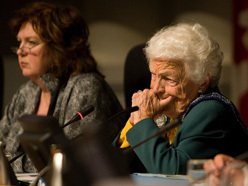 Mayor Hazel McCallion, right, and councillor Carolyn Parrish are pictured at Mississauga council Wednesday.
(MICHAEL PEAKE/Toronto Sun)
MISSISSAUGA — It wasn't all talk of duct tape and spankings at Wednesday's Mississauga council meeting.
Councillors also had to chew over a request from Mayor Hazel McCallion's legal representation to raise funding to $400,000 from $100,000 for the ongoing, council-sanctioned Mississauga judicial inquiry.
"I would consider $400,000 quite a leap," Councillor Carolyn Parrish said. "To go from $100,000 to $400,000, in a 40-day hearing, that's $10,000 a day."
Parrish suggested to her colleagues that a $150,000 cap on the legal fees for McCallion would be more appropriate.
Councillors agreed and voted to raise McCallion's legal funding to just $150,000.
Councillor George Carlson expressed his disappointment with the inquiry's rising legal fees.
"Lawyers, I think, have some obligation to keep it real," he said. "I'm not impressed they wouldn't take a more civic-minded view."
---
Comments by others, 5, to this web-page;
---

Marc Report Comment
June 10th 2010, 2:45pm
Once you have bad city planning and no choices for the citizens, as well not allowing citizens to have a voice....you have CORRUPTION. Also, to simply be nicknamed as something like "Queen of Sprawl" only means that something is not right and corruption is present in the first place. I think an issue as a whole for Mississauga residents now, besides how awfully planned the city is (many of the 905 cities are also bad), is that they simply don't have much to choose from in terms of who to vote for to be their mayor. Mississauga residents seem to only have Parrish and McCallion to vote for, but overall, no one to really turn to or trust. This is a huge problem for a city of the size of Mississauga.
PSM Report Comment
June 10th 2010, 8:55am
Slappy...I am glad you believe in the fundamental right of all Canadians guilty until proven innocent. There has been nothing proven so far that says she is guilty of anything but I hope nobody ever accuses you of anything because under your theory of justice you would have done whatever they said and would have to prove you were innocent.
john Report Comment
June 10th 2010, 12:29am
HAZEL IS THE BEST THING THAT EVER HAPPENED TO MISSISAUGA> WISH SHE WAS PREMIER OR BETTER STILL PRIME MINISTER
MISSISSAUGAWATCH Report Comment
June 9th 2010, 8:32pm
The reason why the City (and Mississauga taxpayers) have to pick up Mayor McCallion's legal bills and those of her son is very simple. First, this is not a criminal court, it's a public inquiry. We regard ourselves as a fair, just society, no? If someone we were plucked from our regular lives and thrust before a tribunal should it come out of our pockets? It was also revealed today that Councillor Katie Mahoney (who vehemently opposed the Inquiry) has now been called as a witness.
She too has been granted money for a lawyer. And so it should be.
As for Parrish, she's been consistent all along. Hates the lawyers but also is #1 in making sure all parties get the funding they need for the best. You're talking Industrial Strength $lawyers$!
slappy Report Comment
June 9th 2010, 8:12pm
as much as i hate parrish, i hate hazel just as much, that miserable old bitch should foot her own legal bill. why should we pay for hazel to fight her losing battle after she got caught doing something illegal? im suprized that parrish could contain her joy as she once again became the thorn in hazels depends undergarment.
---
---
Home Page - Main Table of Contents - Back up a page - Back to Top
---
[COMMENTS BY DON B. - ]