The
Threatening
Threat Assessment
of
Donald Barber
Community Leader & Educator
by Canadian police.
---
"The Peel Regional Police are tasked with formulating a plan
action to assist the City of Mississauga personnal
in dealing with Mr. Barber in the future."

It does not say who "tasked" the Peel police with framing me - likely the Mayor.
This task has included false charges, harassment and a general attack on our Democratic society - evil or what?

This "plan" is clearly about City staff making false claims, serious enough for the Peel police to lay false charges to assist Mississauga politicians
- Mississauga, third world north.
Other police statements are -
"Until the City of Mississauga takes the initial steps to create and implement their plan of action, it would appear that there is little that the police can do in this matter."

An eariler City Memorandum does say a
"security program" & "without any documentation",
should be created and goes on to note that the City should create a history to "inform the public and the press" or publicly frame, to defame a community leader with, who oppose the City and "organize a citizen group as an alternative to Mr. Barber's ... "Friends of the Cawthra Bush"" or eliminate an existing community group and create a City friendly one.
All on one document, clear as day!

Translation - refuse services, be as rude and unprofessional as possible, in the effort to provoke a conformation, in the hope of getting a reaction from me or write up a false report say there was, so that the police can be called in, the ever-ready servants of the Mayor's political agenda that they are stating, they are.
Lay false charges knowing the Peel police are there to serve City politicians and protect their political interests.

Must be nice having your own army of gun carrying bullies ready, willing and able to attack who ever disagrees with you, without any fear of being held to legal account - welcome to Mississauga & Peel.
---
Peel police
&
Their Hall of Shame;
---
City Security
-
City of Mississauga

City staff have been turned into spies to service City Security!
YOU WILL SERVE BIG SISTER!
YOU WILL SERVE!
---
Some in the Peel police feared a
"Pandora's box"
would be opened by going after me,
what do you think?


There is so much that needs to be said about this kind of evil - where the police become the willing tools of politicians trying to destroy community opposition to their plans and rule. The nature of the records I have just received are akin to those the NAZIS created to make unknowing or uncaring members of the public hate the people they wanted to destroy for their own gain. History repeats itself and Canada is not immune to fascism, we have quite a history of throwing people into concentration camps for any old reason. In this case it is not just me that City hall has used the police on, those that tried to form a union also suffered at their hand. Going down this path will destroy our society and it is not worth it. The end of our society or the comfort of a few incompetent politicians, as well as, police officers who apparently have too much time on their hands - which do you really feel is worth it? To say nothing of the loss of truth and justice in Canada that so many have died for, would not siding with those who write such foul things about me dishonour their sacrifice?

Clearly the Peel police were so hard-up for a terrorist threat to justify the money they were spending in that department that I was made out to Mississauga's bin Laden. Created with vague statements or so minor as to be laughable, made by people with reason to do so for gain, employees of Mississauga City hall.


What next for the Peel police, Chief Metcalf, writing a report about
- made a face at the Mayor -
maybe sticking out your tongue will be an arrest able offence.
How about the all time favourite - disrespecting Hazel McCallion - boot to the head!

A letter has been sent to Chief Metcalf asking him to explain how their INTELL or
intelligence can be so complete wrong.


Here is another example of how the Peel police live in their own little world of falsehoods, that sadly they believe is real enough to arrest people or deny service for. Sometimes I wonder if these cops are on the drugs they take from people.

In the communications provided, Peel police repeatedly said this about me - apparently by Inspector Steve Asanin, Officer in Charge, Morality Bureau (of all departments).

"Donald Barber is a Mississauga resident who claims to be an ecological activist. He has over the years caused difficulties at Council meetings, [1] and lately, presented the Mayor with a package in Council Chambers, which contained a bottle of Sherry (following her recent motor vehicle accident) [2] He had also set up a storefront recently which was offensive towards the mayor. [3]

Barber himself unsuccessfully ran for Mayor in 2000. [4] Below is a website which Barber runs, and contains reference to his dealings with the City of Mississauga and its elected officials. http://the-democratic-reporter.com

A threat assessment was requested in 2000, but not completed as it entailed the need to interview Barber's family, and the management team at the time felt this would open a "Pandora's box", [5] I have requested a copy of the file on this individual from Insp. Al Britton who had carriage of the matter at that time. I believe that this file should be revisited with recent events, and the feasibility of a full threat assessment be considered. I will be liaising with Det. Joe Paolini to this end."

Yes they do monitor my web-sites as you would expect Big Bother to do and talk about how to end my use of the Internet - "sent some of his updates to Chief Metcalf for his review."

[1] "difficulties at Council meetings", well I am not a yes man and can ask the hard questions politicians do not want to address.

[2] Falsehood - the bottle had some ribbons on it and no package, everyone could see it, have the video tape. Also, it was given the morning of the day she smashed into the pole going home from a Peel Police Services Board Awards ceremony, not after. Maybe too much to drink? And not everyone feels the same way the cops do.

[3] "set up a storefront"? Not on your life Byron did that because of the way he was being treated. Bad government tries to say that only one person has a problem or that it is the work of only one person and everyone else is happy - no problems man! He makes it sound like I am every where and all that the Mayor finds "offensive" in Mississauga is my doing - in a pigs eye!

Most important point "which was offensive towards the mayor.", words to tell the other Peel police officers that the use of lethal force to stop me is acceptable - must serve the McCallion - must serve the McCallion!

[4] Forgot all the other times (?) or maybe can't count that high.

[5] In fact the more logical reason is that it would have been done before the 2000 election and my family members would have told me about this Peel police action and it would have become an election issue - police state protection for a Mayor who thinks there is a "coup" out to get her. Look at the date on the Threat Assessment report - Nov. 21, 2000, right after the election - how political accommodating.

Well the "Pandora's box" is open now and the real issue is Peel police kissing the feet of Canada politicians while doing what is or should be unlawful!
---
It is also worthy of note that after I was charged, June 7th, Councillor Maja Prentice's office contacted the Peel police and said "Councillor Prentice would like a copy of the report on what happened on the 7th." Interesting how Mississauga's politicians feel they have a direct hot line to Peel police Service and that their desires will be fore filled?
---
Is there more - you bet you,
but lets wait to see if I get arrested for post just this
or some other fascist act to stop the truth from getting out.
---
Here are just a few pages of the act of evil done by our police services to serve the political goals of Mississauga's politicians, one being the Mayor who thinks there is "coup" out to get her - which oddly was not noted in this report - wonder why. As the purpose of this report was to justify an unlawful act of evil against a Canada taxpayer representing community concerns in a Democratic process it contains many falsehoods, slander and well you know, crap - so to protect myself parts are blacked out (for now).
May the names of those who authored this so-called Treat Assessment report, live in infamy!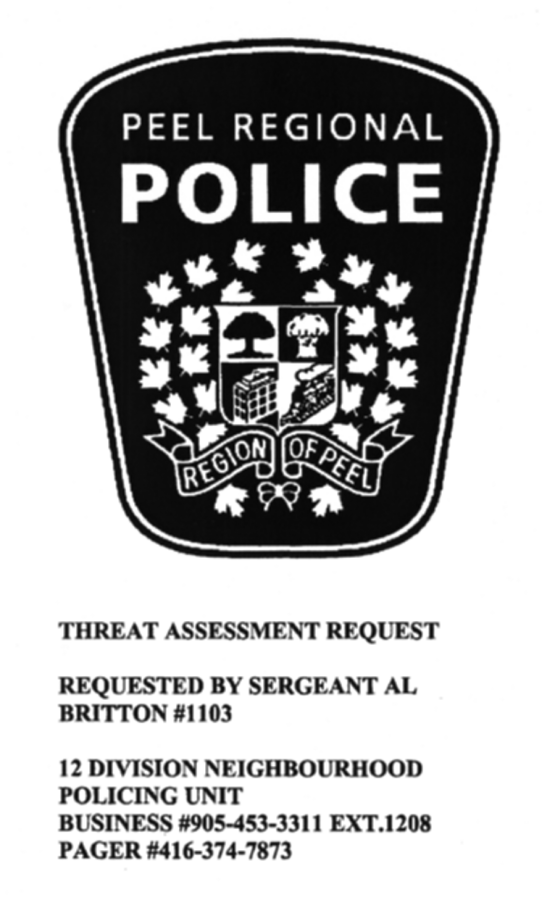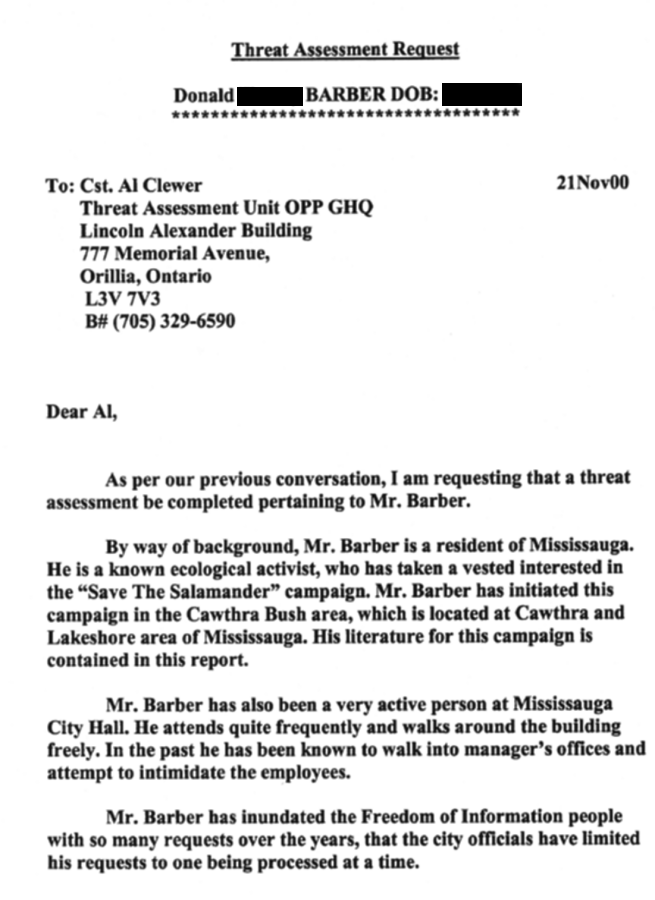 This page contains political code talk - "walks around the building freely."?!?
Hazel McCallion hate that and wants it stopped! Nothing worse than someone who knows the lies and pit-falls put out to stop members of the public and knows how to get around them, walking freely around City hall discovering the truth and then telling the public - how McCallion and her servants hate that. That is why something like that is in this report, something that jumps out as, what the hell are they talking about? It is our City hall and our tax dollars paid for it, we all own part of it and it is a public build, open to the public and where the public does business with the government. But these people are so far gone into their twisted world of Homeland Security insanity they can say such things in all seriousness with a straight face, like it is some how reasonable to an intelligent person.

It goes on to say, but not provide an example or witnesses, "attempt to intimidate the employees.", what the hell is this?
How does a person "attempt to intimidate", a person and why the hell are the police writing a report about it??
Oh yes Hazel McCallion wants it done, so the police must obey, regardless of the law.
Anyone who has dealt with government and especially in Mississauga knows how bureaucrats will shovel bullshit in your face to get you to go away.
Anyone who has been successful in getting by this abuse by uncivil servants, know that you have to stand up for your rights, be assertive and not back down from the service you want and not how they want get rid of you with. This often means actually telling them what their job is. Making the public so frustrated they leave, appears to be standard training these days and a good way to get ahead in their career. It is now clear that the police have now added this to their services rendered for politicians - making it a crime to be knowledgeable enough to get thought government bullshit.

Freedom Of Information (FOI), these statements prove that what I have always said, it was the City of Mississauga, that by way of falsehoods, secret evidence in a secret trail and signing false affidavits to keeps the Mayor's promise - that I will not get City records that proves they are lying to us!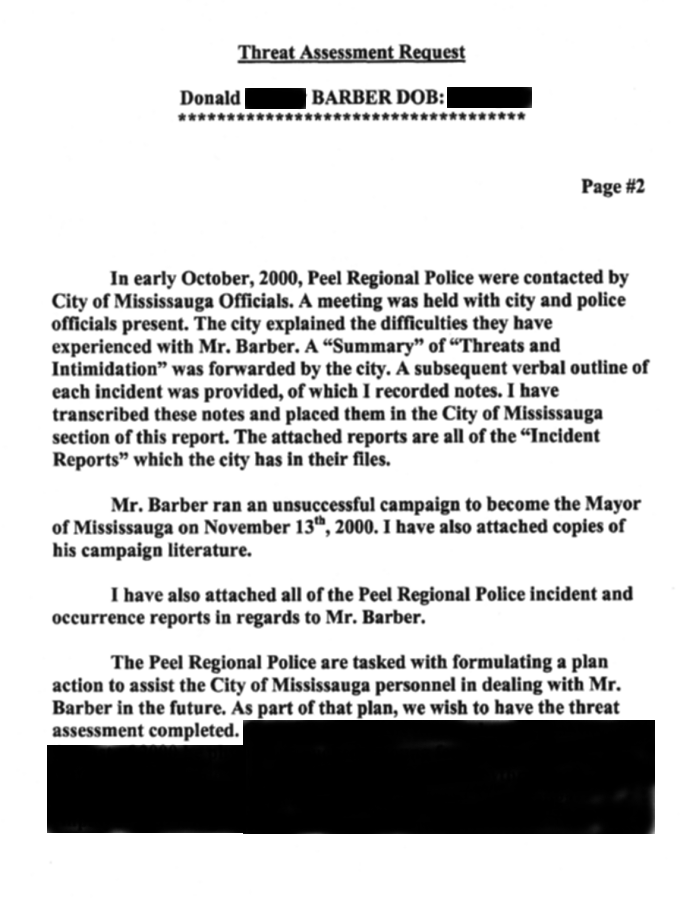 I have in fact ran 3 times for the office of Mayor and had good voter support, one of many incomplete facts that create only the picture they want to be seen and form their evil opinion with - later to be presented to the public, so they can hate me too. More of the secret security plan to end our Democracy by destroy the lives of community leaders and that by cutting off the head the body of community effort, its body will die - no more opposition to a Canadian politician. What the Peel police and the Ontario Provincial police think their job is these days.

Interesting how my election campaign literature is being used as a weapon against me.
In that election I came in third, so the public was very supportive and with enough of the vote to get my deposit back, so by Provincial standards, I made the grad. However, this can be seen as the police becoming involve in what is said during elections - in support of the incumbent.
A capital sin in a Democracy!

HAY, if it worked for Hitler, it WILL work for Hazel McCallion. After all, no where are there any words to suggest the Mayor or Councillors of Mississauga cared at all about how these actions would destroy a community's Democratic rights or affect the individuals representing community concerns to them. That is the most important point, they show no remorse for what they are doing.

Remember they will not just do these things in Mississauga, the police will use these methods wherever there are morally bankrupt enough elected officials so weak in character that they call the police because someone asked them an intelligent question and objected at the load of bullshit that was thrown back at them.
---

---
Boingdragon Counters
---