The Private Charge
or
Private Information
Against
Sheri-Lynn Ruffo
City of Mississauga - Security Guard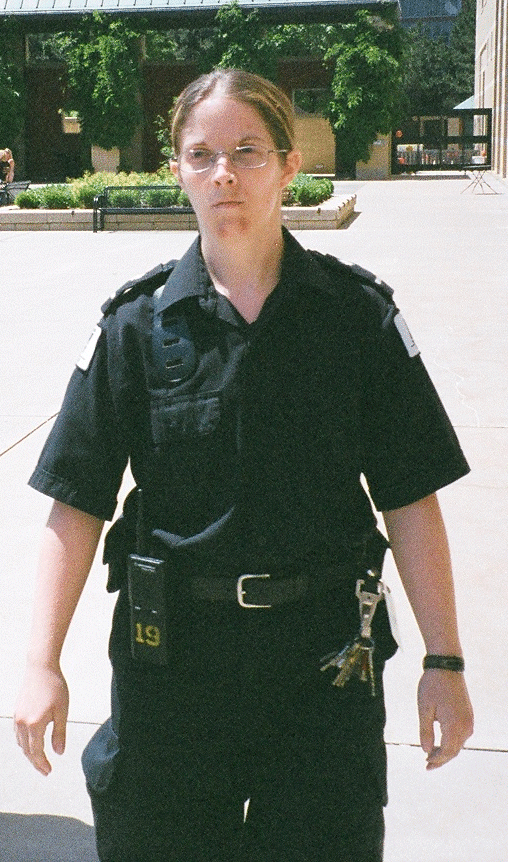 ---
Want to see more pictures taken June 7th, 2006,
of her at work & why she feels there should be a Peace Bond against me.
---
Up-Date;

It came as no surprise that bureaucratic methods were used to stop my reasonable efforts to seek justice in Brampton courts without having a high priced lawyer beside me to buy justice. After swearing to the charges noted below and listing out the details, the matter is forwarded to a Justice of the Peace in a Court room to formally have the Crown take up the charges. The first time did not happen as the video player was not there so another date was set. At this date a DVD player was there but it would not work correctly and my matter was dealt with late in the day. The J.P. cared little for self represented people, so much so that he would not even call for court support staff to try and get the machine to work (it was about 5pm) and told me to either withdraw the charge or he would rule without seeing the most important evidence - how is that for justice? I withdrew it as he told me that under appeal it would likely be allowed to restart it. Because of the basis and prejudice shown to us common folk and lack money to buy respect, have not tried to re-file charges - yet.
I am the one who got assault and when Ruffo tried to get a Peace Bond against me the Crown would not even put the other guard who was with Ruffo, the only person who could have given creditability to her claims, on the stand to give evidence. Isn't that special and what does that say to a reasonable person? When you read his written statement to the Peel police his statement does not support Ruffo's that she makes here.
---
!!!! Public Call for Trail Evidence !!!!
This is the City Security guard who is a part of the City of Mississauga's
"plan of action" against the editor of The Democratic Reporter,
which is also noted in a City Memorandum as
"security program" & "without any documentation"

Information and evidence is needed as to her character and if she has, in the past laid false charges or given false statements - for use at the political trial resulting from her actions.
You can E-mail me or mail to Station B, Box 1504, Mississauga, Ont. L4Y 4G2
Your help is needed to right a wrong and protect Canadian Democracy.
This picture was taken after the so called assaults by her and she does not look too shaken up - yes?
And Historically we all know what kind of people wear all black uniforms.
---
Up-Date;

All changes against me were dropped and the effort to get a Peace Bond against me, to protect Ruffo (or so they claimed), as I was post pictures of and my story about her on the Internet - failed as well. But not before costing me lots money as had to pay for a lawyer.
The usual play in these kind of legal plays is to stay the charges by getting the person to sign a Peace Bond so the matter of the persons innocence's is never dealt with.
I refused to sign, so they knew a trial would fail so they dropped all the charges and then forced me into a Peace Bond Hearing
- how is that for Canadian Justice?
---
From the scan of the private charge against Sheri-Lynn Ruffo, regarding the events of June 7th, 2006
- the spelling error is the Courts;


did commit an assault on Donald Barber contrary to section 266 of the Criminal Code of Canada;

and further that Sheri-Lynn Ruffo did commit an assault on Donald Barber contrary to section 266 of the Criminal Code of Canada;

and further that Sheri-Lynn Ruffo did with intent to mislead fabricate evidence with intent that it should be used as evidence in an existing judicial proceeding contrary to section 137 of the Criminal Code of Canada

and further that Sheri-Lynn Ruffo did commit public mischief in that with intent to mislead she caused a peace officer to enter upon an investigation by making a false statement to that accused Donald Barber of having committed the offence of Cause Disturbance contrary to section 140(1)(a) of the Criminal Code of Canada;

and further that Sheri-Lynn Ruffo did conspire to commit the summary conviction offence of assault and cause disturbance contrary to section 465(1)(d) of the Criminal Code of Canada.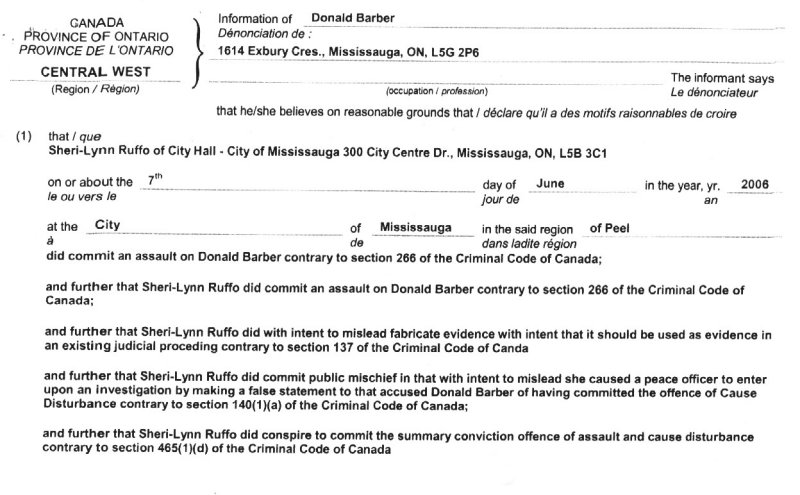 ---
Not the only example of me being attacked for no good reason by those who part of the Mayor's clique. ATTACKED by Dave Cook For no apparent reason and left scared for LIFE!

---

Boingdragon Counters
---
---
Home Page - Main Table of Contents - Back Up A Page - Back to Top
---