MUNICIPAL MELT-DOWN
IN
! MISSISSAUGA ELECTION !
2006
{call the Peel police the other candidate is winning!}
---
This web-page is being put up to list the odd, underhanded and out right unlawful events going on leading up to and including the 2006 election in Mississauga. The City of Mississauga election is fast going to the dogs or should I say the police! Like never before the Peel police have become the weapon of choice for candidates and unlawful acts common place. In the past Mississauga has had its fair share of underhanded and unlawful acts but they were usually discovered after the election - now they are the main event! One sure sign of a corrupt or morally bankrupt government is just this kind of activity.

PLEASE NOTE - In the below section - list of News items items are posted regarding the Editor for The Democratic Reporter, Donald Barber, being arrested in June of 2006. As I have run three time in the past against Hazel McCallion for the office of Mayor and appearing before City Council more regularly, the Mayor no doubt decided to launch a preemptive strike before my name was put in as a candidate - which usually was done on the last day for nominations, Sept. 29.


---
The list of News items detailing how unruly the Mississauga election has gotten;

Another Ontario municipality tries to muzzle free speech
Web posted by NUPGE - June 7, 2006 - To show it is happening all over.

Public voice denied
Mississauga News - June 9, 2006 - Editorial.
Activist charged with assault
Mississauga News - June 9, 2006.

Mississauga speaker's corner ends as citizens ejected from council
Toronto Star June 8, 2006.

Activist charged in assault
Toronto Star - June 15, 2006.

Council Conflict
The guest column submitted to Mississauga (Missing) News, June 16, 2006. To help tell some of my side of the story.

Voice Denied
Mississauga News - June 23, 2006 - Letter to Editor by Ursula Keuper-Bennett, Mississauga, was a Candidate for Ward 1.

If you can't beat'em...
The Mississauga News, Jul 16, 2006 - By Joseph Chin. Internet coverage by Mississauga News after point out they not write about my entrance into the Mayor's race.

He can fight city hall, if he plays nice
Toronto Star July 31, 2006 - By Mike Funston. Yes, I have to play by the rules they change without notice and even makeup as required to serve their political masters.

My letter of THANK YOU to Mike Funston for his article.
July 31, 2006.

Saving 'small-town' Streetsville
National Post - July 31, 2006 - "Ms. McCallion opened the floodgates of development,", better the rest of Mississauga suffer than Hazel's home town.

Would-be politicians scared to seek election
Mississauga News - Sept. 20, 2006 - Wed. - Was the "Missing" News trying to SCARE away candidates in an election where there is the genuine chance of more then one new face on City Council and really up-setting the status-quo and no more business as usual. One thing is for sure the Mississauga News should never have tried to "call" the election even before the filing deadline has pasted - it can easily be seen as an effort to keep people from running as it would be futile to even try! BUT more importantly they fear to even anger Hazel McCallion by running against her!
McCallion takes another jab at region
Mississauga Business Times - Sept. 21, 2006 - Thur. - Even the business community wonders about the Mayor's obsession with separating Mississauga from Peel - "Now McCallion isn't advocating city state status for Mississauga, or dare we say it, a virtual dictatorship, but her ongoing battle to remove her city from the Region of Peel continues unabated." "Does she have the energy to continue the struggle?"
Former villages adapting to intensification
Mississauga Business Times - Sept 21, 2006 - Thur. - FRAM-Slokker Canada's success in Port Credit and with the Port Credit Business Improvement Association & how business is done in Mississauga.

Wrong message - Letter to Editor
Mississauga News - Sept. 27, 2006 - Wed. - Letter to Editor by Roy Willis, about the article by Joe Chin "Would be politicians". The Mississauga News knows Roy Willis is a candidate for Mayor and usually that would mean the media should not publish letters by a candidate during an election as it needs to be seen as impartial and not giving any candidate greater media exposure. In this case they leave off the fact he is a candidate and print his letter really fast.

Who will follow Hazel?
Toronto Star - Sept. 29, 2006 - Fri. - Talk about a close up picture of the Mayor, do you think they were trying to make a point?

Horse races expected for mayors' jobs
Toronto Star - Sept. 30, 2006 - Sat. -

Three running to replace McCallion
National Post - Sat. Sept. 30, 2006 - Sat. - Finally the Media is noting how undemocratic Hazel McCallion's rule is "Less than 26% of eligible voters cast a ballot in Mississauga"

Municipal election attracts 140 candidates
Mississauga News - Oct 4, 2006 - Wed. - This says it all when it comes to politely say the Mayor should be put out to pasture.
"Mississauga has changed enormously in the past decade, and now sits at a very important crossroads in its development. As the city transitions from a suburban to an urban community, sound political leadership is needed, which makes this election especially significant."

Residents angered by mayor's comments
& later ..
Residents have little choice in power plant plan
& even still later ...
Residents offered little say in power plant plan
Mississauga News - Oct 5, 2006 - Thur - a story whose wording changed greatly during only one day!

Transit outlook poor: Mayor
Mississauga News - Oct 6, 2006 - Fri. - Mayor Mississauga admits she has totally failed Mississaugans when it comes to transit.

Mutiny on the buses - Editorial
Mississauga News - Oct 6, 2006 - Fri. - "Missing" News lays it on the line - "councillors and city planning staff blew it big-time "! It goes on to say no answer but not true - I have an answer!
A new honour - Letter to Editor
Mississauga News - Oct 6, 2006 - Fri. - In a Mississauga Newspaper the suggestion to name the slippery slopes of the goose-grazing grounds after Hazel McCallion, my, my, my.

Milton fruit farmer fears power plant plan
Toronto Star - Oct. 11, 2006 - Is the future of Mississauga that of an Air Pollution Slum?
Has Hazel McCallion sold her soul & the heath & welfare of Mississaugans and their families to the Province so Mississauga can be separated from the Region of PEEL? Is she dropping power plants like bombs on Mississauga's communities?

Hydro corridors best rail line option - Letter to Editor
Toronto Star - Oct. 14, 2006 - Sat. - Letter by Donald Baker (no wait its Barber!) - Hydro corridors best rail line option for transit lines in Mississauga when the LONG time Mayor and her Council have - "councillors and city planning staff blew it big-time "! But who listens to the best idea these days? For the Toronto Star to print this letter proves the media is rebelling against the Queen of Sprawl - Hazel McCallion. It also shows the media supports another candidates ideas for the future of Mississauga!

Council candidate charged
Toronto Star - Oct. 18, 2006 - Adnan Hashmi, 32, one of 23 candidates running for a council seat in Mississauga's Ward 10, denies he is intimidating rivals to drop out of the race.

Mississauga sign law called 'restrictive'
Toronto Star - Oct. 16, 2006 - Mississauga's "severely restrictive" election sign law makes it tough to challenge incumbents, says a candidate for city council.

Parrish rolls with the punches
Toronto Star - Oct. 17, 2006 - Carolyn Parrish is on trail for seat in Mississauga & the Toronto Star gives her a boost.

Candidate charged
Toronto Sun Oct. 18, 2006, Wed. - Woman in Mississauga says one of her rivals tried to force her out of council race said she was threatened and left horrified by the ordeal.

Police probing bribery allegations
Mississauga News - Oct 19, 2006 - Louie Rosella and John Stewart

Adams accused of election abuses
Mississauga News - Oct 20, 2006 - Ward 5 Councillor Eve Adams has been strong-arming residents to place her election signs on their properties, charge her two former office workers - councillor threatened homeowners with bylaw infractions if they didn't comply with her wishes.

This is not the first time Eve Adams has been in trouble. In the last election her family stole election signs.

Mississauga councillor broke rules
Toronto Star - Oct. 25, 2006 - Eve Adams - her election hopes have been stabbed in the heart. The misuse of City "resources, including employee staff time and computer systems", & "Use of city resources gives a candidate an unfair advantage over rivals," and the list goes on. Well the VOTERS can fire her Nov. 13, if they are smart enough.
Councillor's brother sends bogus e-mail
Mississauga News - Oct 25, 2006 - The brother of Councillor Nando Iannicca, well known Hazel McCallion supporter and can often be heard telling the dear old Mayor what to say at City Council, sending intimidating E-mails?

Ward 9 protest candidate faces criminal charges
Mississauga News - Oct 24, 2006 - Pat Saito admits she is responsible for involving the Peel police who charged 75-year-old Antonio Baptista.

Talk about transportation!
Mississauga News - Oct 25, 2006 - "Transit was the only issue that Mississauga mayoralty candidates all mentioned when they gave 60-second pitches for votes in a mini-debate on CFRB Radio this morning."

Residents upset about councillor's signs
Mississauga News - Oct 25, 2006 - "The City of Mississauga has received numerous complaints from residents accusing Ward 5 Councillor Eve Adams and her campaign workers of placing election signs on their properties without permission."

Town's "pit bull", bites veteran.
The Halton Herald.ca - October 28, 2006 Sat. - Another cases of a City making up reasons to ban a taxpayer who was uncovering wrong-doing at their City hall and exposing it to the public. "I'm a prisoner of my own town who can't use any of the facilities that I'm paying for. I've been tried, convicted and sentenced for unnamed acts by unnamed individuals!"

Going head-to-head with Hazel
Toronto Star - Nov. 2 - 06 - A prime example of how the Toronto Star campaigns for Hazel McCallion by failing to report her failures, miss-deeds and out right evil acts. This article clearly shows how a reporter (or editor) will NOT report what they knows as it will hurt McCallion's chances for re-election and how the facts are not presented or false information about the Mayor's challengers is - to defame them and keep the voters asleep - Soviet style journalism that Hazel McCallion loves to talk about so much.
---
The letter put out by the Mayor &

Councillor Carmen Corbasson - was it on the tax-payers tab?

More about the noted meeting here.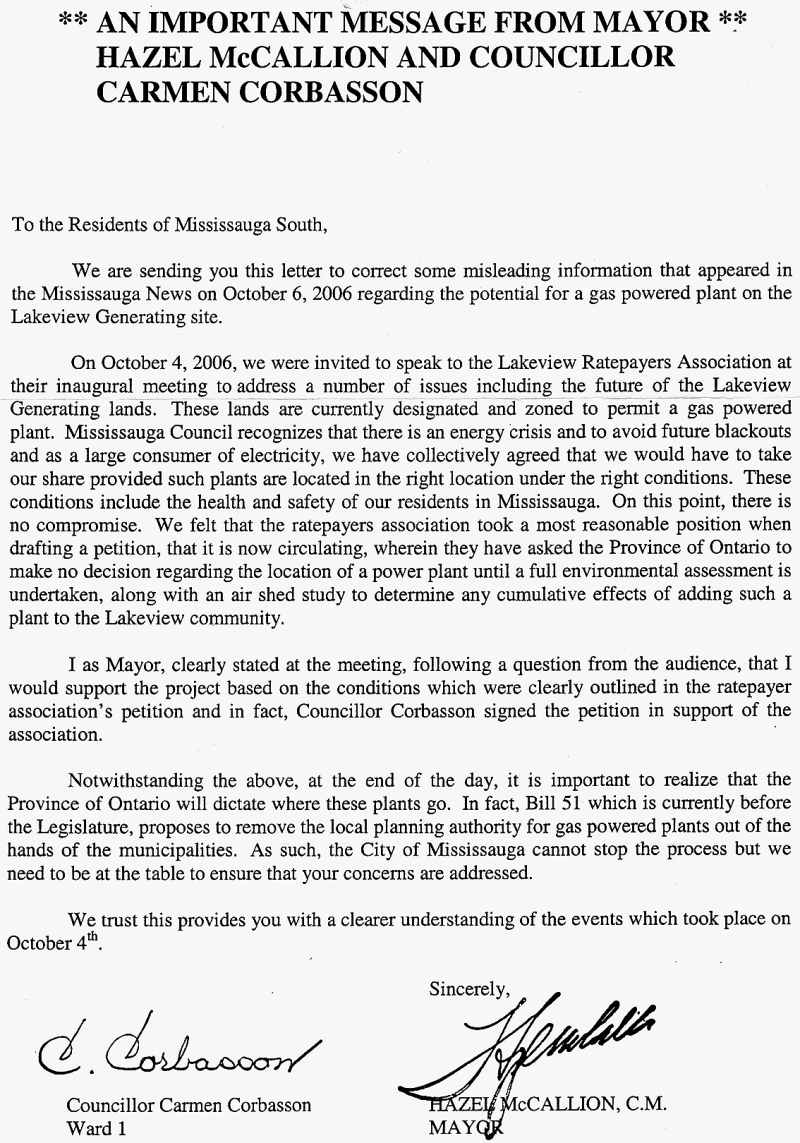 { Notice how the Mayor like to put her name in capital letters? }
---
---
Home Page - Main Table of Contents - Back up a page - Back to Top
---